I currently have over 8000 comic books in my collection, I have upwards of 20+ mini busts and statues, I have over $1000 dollars in original comic book art work and sketches, and I have a book collection that never gets smaller. Oh, and did I mention a few action figures, collectible knives and some plates and stamps are also in the mix? So, you can see why today's task might be a problematic thing for me to do. You see, today I was suppose to start...a collection.



I didn't know what to do but I did know that I don't have room for any more collectible memorabilia, and then I went to the local Borders to spend a gift card I had. I found my new passion, the next thing I will throw myself into with wild abandon and roll around in like a stripper in a child's swimming pool filled with Jello. Zombie Literature.
That's right, Zombie Literature. I love zombies and this love has even helped me make a friend in the dear
Girl Interrupted
who has slowly worked her way into being one of my ten favorite peoples. I own no Zombie Literature at present, excluding the Walking Dead and Marvel Zombies trade paperbacks which don't count as they are comic based. So, as I walked around I discovered a sale. Whooooo!!! Sale. It was Buy One, Get One 50% Off. That's an average savings of 25% per book. CHA-CHING!
I immediately found one of the books I have been interested in reading.
By reading this, I am probably going to have to sit down and read Pride and Prejudice just to really appreciate this book but ever since I heard about it I have wanted to read it. You're ordering it now aren't you?
The second book is one I have seen on the comic convention circuit and thought I should also pick up.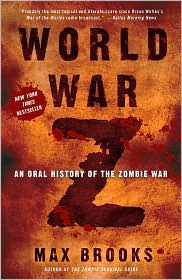 It involves an outbreak of Zombieitis and the aftermath that ensues after you have to fight a war against Zombies. I know I want to know the outcome.

So, I now have two new books to add to my new collection of Zombie Literature. I am pretty excited about this.

I will end this post with a story. One night about a year ago, I lay in bed thinking. My wife slept peacefully next to me but I couldn't go to sleep. I tossed and I turned but an eternal question gnawed at my grey matter and no matter what, I couldn't get to sleep until I had solved the problem.

I asked myself, "If a zombie attack were to happen right now, could we successfully defend our house and survive for a long period of time while waiting for them to starve?"

And the answer is, "Yes". I now have a plan of action on zombie attacks which involves moving all food, animals, and some reading material upstairs and then fortifying the staircase for protection. The single window we have on the second floor is not accessible without a latter, thus making it a safe access point and usable if necessary for quick escape. We would have running water from the bathroom and could fill the tub for extra if the fear of water loss was imminent. This would also allow us bathroom use. My wife has been briefed on these plans but I don't think she committed them to memory.

So, when it comes to zombies, this ain't my first rodeo.

That is all,

Newt