So, as you may know I was on vacation on Day 188 and thus I had to adjust my task just the slightest bit. Day 188 was made for me to "Get a Life Coach". Now, I don't particularly think I need a life coach but a task is a task so while in Napa, we went to a bookstore called Copperfield's and I hit the Self Help section of the bargain table.
I actually did really good with finding a life coach. His name is Norman Fischer and he wrote a book called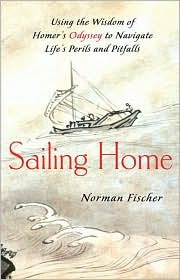 Sailing Home: Using the Wisdom of Homer's Odyssey to Navigate Life's Perils and Pitfalls
. Mr. Fischer is actually a Zen teacher from San Francisco and is very well known in Zen circles. In the book he compares some of Zen's teachings with Odysseus's journey home to Ithaca, showing reflection and the attempts to achieve your goals in an interesting way. I started the book on the plane home and I am performing some of the exercises the book suggests.
One exercise was:
Imagine: Close your eyes and visualize the ceaselessly restless sea. There is no land in sight. Just shimmering wavelets, tipped with diamond-glittering points of light. Be with this vision, in calmness, for a few moments. Etcetera, Etcetera, Etcetera.
I don't know if this will be of any benefit to me but I am willing to try it. Once I finish it I will do a follow up.
That is all,
Newt